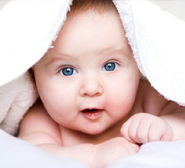 Babies (6 months – 1 year)
Our baby room is designed to provide a warm, cosy and stimulating environment for your baby. It is suitably equipped with a variety of age appropriate toys designed for sensory stimulation, discover & play.
Our "Baby World" programme incorporates developing communication skills, gross & fine motor skills, encouraging rolling, crawling and early walking skills.
We understand that babies require lots of one to one individual attention so we keep our staff to baby ratios high, we have 1 carer to 3 babies. Our dedicated staff follow an individual care plan for your baby, devised in conjunction with you and you baby's key worker. We include lots of stories, songs& rhymes, floor play, messy play and of course cuddles & fun in your baby's day with us.
We provide a separate baby menu for your baby and cater to your child's specific dietary needs & requirements. We personally inform you about your baby's day with us, regarding sleeping, food &nutrition, nappy changing, and of course ,the fun they had during the day!
A firm favourite with our parents, is their child's individual KinderCrescent Yearbook, where we record your child's journey with us from the first day they join KinderCrescent nursery. We include your child's handprints & footprints, milestones they reached & photos fun activities.It is a wonderful keepsake for years to come!