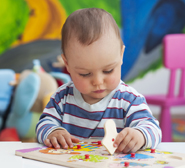 Toddlers 1-2 years
Your toddler is well on their way exploring and learning at this stage. Our toddler rooms are designed to meet your toddlers needs & development. Our toddler curriculum"Let's Explore" is designed to stimulate your child, engage their imagination and give lots of opportunity for learning, fun & games. At this stage your child is learning to share, take turns and interact with other children.
Our weekly themes provide a wide range of interesting activities for your child, from arts& crafts, messy play, dress-up & role play, to stories & songs. Your child's key worker will personally inform you about your child's day with us,regarding sleep times, food & nutrition, nappy changing and not forgetting the fun they had during the day!
A favourite of every child is their own individual KinderCrescent Yearbook, where we record your child's journey with us, from the first day they join our Toddler room. We record their milestones & achievements, artwork, observations & photos of fun activities.