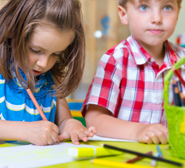 Montessori 3-5 years
We operate a two year Montessori programme in KinderCrescent. Our curriculum incorporates both a play-based and Montessori Programme. Our curriculum is an emergent curriculum and you can find out more about this in our curriculum section.
The programme will provide your child with new experiences throughout the year, The programme is broad and balanced; this offers the child more opportunities to reach their full potential. We cover areas such as Practical life, Maths,Language, Culture, Art & Crafts, Creative Play and Movement & Music. In addition to our Montessori areas, our classroom also offers a cosy corner for rest & story time, home corner & dress-up area, messy play & art. The main aim of our curriculum is learning, and this can be achieved through both our play & Montessori activities. At the end of May, our annual Montessori Graduation will be held to celebrate their achievements, when all the children showcase their work & receive their graduation certificates!
A favourite of every child is their own individual KinderCrescent Yearbook, where we record your child's journey with us, from the first day they join our Montessori class. We record their achievements, interests, artwork, worksheets, observations & photos of fun activities.