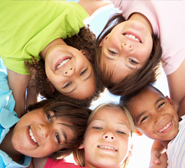 After- school
We offer a before & after-school service in KinderCrescent for your school aged child. Your child may join us for breakfast before they go to school. We will drive your child to and from school in our own 7 seater cars driven by our own careful staff. Your child will wear a seatbelt and sit on an age appropriate booster seat. We cater for children attending the 3 local schools in Kilcock, Scoil Ui Riada, St Joseph's and Scoil Coca Noafa. In Maynooth, we cater for 4 local primary schools, St Mary's boys school, Presentation girls school, Maynooth Educate Together and Scoil Ui Fhiaich.
In our After-school Club, we aim to provide a relaxed and fun environment for your child to help him/her unwind after a day in school. Upon return from school, your child will change out of their uniform receive a hot meal. After their challenging day in school, we offer the your child an opportunity to play, have fun and choose what he/she would like to take part in. We also set aside time for the children to do their homework each day.
Your child will be involved in designing the activities plan for our After-school Club. Our age appropriate activities include games, art and crafts, painting, baking, board games and outdoor activities.
During school holidays we have planned themes and action packed programmes to entertain and challenge your school aged child.
Throughout the year your child will have a number of days off school, mid-terms, school holidays, summer holidays and other days when their school is closed. On those days your child will attend KinderCrescent for the full day.