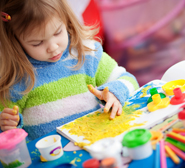 Playschool 2-3 years
Your pre-schooler is an active learner and our playschool rooms are dedicated to meeting their growing needs. We provide endless opportunities for fun & learning with our playschool programme "It's Our World".
We offer your child opportunities to take part in more structured activities, like our table-top learning which will engage them in pre-reading and pre-writing skills, helping them to improve their concentration & fine motor skills, language & communication skills.
We balance this learning with fun activities such as art& crafts, role play/dress up, puzzles,baking, music & stories and of course outdoor play.
Child's key worker will personally inform you about your child's day with us, regarding sleep.times, food & nutrition, toileting and of course the fun & learning too!
A favourite of every child is their own individual KinderCrescent Yearbook, where we record your child's journey with us, from the first day they join our Playschool. We record their milestones & achievements, interests, artwork, observations & photos of fun activites