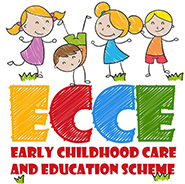 The Early Childhood Care & Education(ECCE) scheme provides free pre-school education to every child in Ireland until they start in primary school. From September 2018, children aged from 2 years and 9 months can available of this scheme. Children must be 2 years and 9 months at the end of August 2018 to be eligible for the scheme in September 2018. There will be only one entry point for the scheme from September 2018. Our sessional classes are completely free and there are no extra charges as we do not charge additional fees.
For children attending full time; part-time daycare, the ECCE subsidy will be deducted from the full/part-time fee.
Our ECCE Montessori classes, led by our team of qualified & and experienced teachers, provide a wonderful learning opportunity for your pre-school aged child. Our Montessori curriculum incorporates Siolta & Aistear, offering your child more opportunities to reach their full potential. For more information about out Montessori education programme please visit our Montessori and Curriculum section.
We offer a number of sessional Montessori classes in KinderCrescent:
9.00 am to 12.00 noon ( Maynooth & Kilcock )
9.15 am to 12.15 pm ( Maynooth & Kilcock)
9.30am to 12.30pm ( Maynooth only)
12.30 pm to 3.30 pm ( Kilcock only)
Monday to Friday for 38 weeks of the year from September until June.
To find our more information about the scheme or to check availability for your child, please call the office or email us on info@kindercrescent.ie
Find out if you are eligible for ECCE Scheme.
Enquire