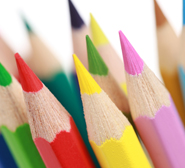 Here at KinderCrescent we offer a range of learning opportunities to children, which are appropriate to the child's stage of development. We are fully committed to being guided by the Principle of Síolta and the new national curriculum framework Aistear. 'Encouraging each child's holistic development and learning requires the implantation of a verifiable, broad-based, documented and flexible curriculum or programme'. Reference: Siolta – the National quality Framework for Early Childhood Education.
' Active learning, relationships, play, language, and meaningful experiences are priorities for supporting children's early learning and development' Reference: Aistear – The Early Childhood Curriculum Framework
We recognise how important high quality early childhood experience can be in children's lives. This curriculum aims to encourage active learning, problem solving, effective communication, creativity and socialization. Our curriculum is an emergent curriculum based on the interests of the children, meaning that the curriculum in every room may differ and also, that if there are no emergent interests, that we have a theme plan set as a back-up. The curriculum is set through interactions, discussions and observations made with and by the children. With the older children, we discuss a theme at circle time and our lessons and activities are set based on their knowledge and interest in the theme. We document this process in our class learner journals and also in each child's individual yearbook and the children assist with this process.
Children learn best when they:
Participate in making decisions as much as possible
Make choices and contribute to learning experiences
Share their opinions and diverse experiences and discuss their learning
Have positive role models within the staff team
Learn in a responsive and supportive social environment
Learn through multi-sensory experiences
Participate actively in experiences that engage them emotionally, physically, cognitively and socially
Aistear, the Early Childhood Curriculum Framework
Our programme will follow the Aistear guidelines and Principle. Aistear is Ireland's curriculum framework for children from birth to six years. Aistear is designed to work with the great variety of curriculum materials currently in use in early childhood settings. Using the broad learning goals of Aistear, we have adapted our curriculum to make learning even more enjoyable and rewarding for the children at Kinder Crescent.
Aistear contains information for parents/guardians and practitioners that will help plan for and provide challenging and enjoyable learning experiences, that can enable all children to grow and develop as competent and confident learners in the context of caring relationships with others.
Aistear describes the types of learning (depositions, values and attitudes, skills, knowledge and understanding) that are important for children in their early years, and offers ideas and suggestions as to how this learning might be nurtured. The framework also provides guidelines on supporting children's learning through partnerships with parents/guardians, interactions, play and assessment.
Aistear is based on 12 Principles of early learning and development. These are presented in three groups
Children and their lives in early childhood:
the child's uniqueness
equality and diversity
children as citizens
Children's connections with others:
relationships
parents/guardians, family and community
the adults role
How children learn and develop:
holistic learning and development
active learning
play and hands-on experiences
communication and language
the learning environment
Aistear also uses 4 themes that connect and overlap with each other to outline children's learning and development. The themes are:
Well-being
Identity and Belonging
Communicating
Exploring and Thinking
Each theme included aims and broad learning goals for all children from birth to six years. The aims and goals outline the dispositions, attitudes and values, skills, knowledge, and understanding that the adult nurtures in children to help them learn and develop
Siolta: The National Quality Framework
Síolta has 16 standards that guide the way we provide and develop early childhood care and education services.
Each standard is broken down into components and questions that help us to reflect and think about our service.
Here, we have provided an overview of the 16 areas to which the standards relate but a further breakdown of the individual components of each standard is available on the Síolta website.
The 16 Standards:
| | | | |
| --- | --- | --- | --- |
| Rights of the Child | Environments | Parents and Families | Consultation |
| Interactions | Play | Curriculum | Planning and Evaluation |
| Health and Welfare | Organisation | Professional Practice | Communication |
| Transitions | Identity and Belonging | Legislation and Regulation | Community Involvement |
Our education programme
Our education programme is designed to meet all the developmental needs of your child. We have tailor made programmes which are age appropriate for each of our classes from babies to our afterschool room.
The key areas of a child's development are the cornerstones of our curriculum and are as follow:
Personal, social and emotional development
Communication, language and literacy
Mathematical development
Physical development
Knowledge and understanding of the world
Creative development
We have devised an annual list of weekly/ monthly themes with our programme co-ordinator and our staff. Our theme list is reviewed and changed annually. Themes are subject to change depending on the varying interests of the children in the class. Themes are divided into over and under twos so that the themes and activities planned are age appropriate. We follow a diverse range of themes from nursery rhymes, occupations, animals, seasons, the world around us, where we live, all about me, my family, diversity, special occasions to name but a few!!